As we continue on our tournament I look at the pairings and realize how this all could have played out different depending on how things were set up. There are always losers in a tournament. Everyone but the winner is a loser in reality. There are great albums that will fall in the first round for no other reason than it was paired against a much stronger entry.
In our next match-up we have a pretty interesting situation. We have the death of one line-up going against the birth of the next. Fripp dismantled
King Crimson
after the supporting tour for
Islands
. He would then go on to form the line-up that would create the album
Lark's Tongue in Aspic
. How do these line-ups fair against each other? Did Robert make a mistake one way or the other? Let us find out.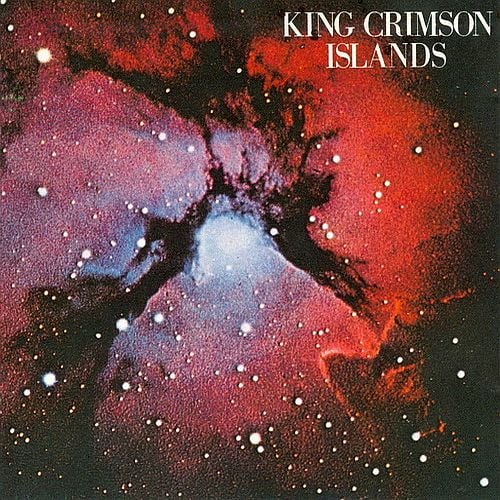 VS
Islands
is often disregarded by
King Crimson
loyalists. It is a very soft album compared to the typical onslaught of instrumentation that is on each album.
Islands
is calm and melodic, freed from the conventional formula of the first three Crimson albums. Considering what came before it, it is perfectly understandable that many fans would not like this album as it was such a radical departure from what had come before. It was also made by a band near complete disintegration for the second time. After the iconic first line-up,
Fripp
had major issues keeping a band together with constant personnel changes and battles of egos. It is strange how soothing Islands is when you consider the chaos that was going on behind the scenes.
Then there is
Lark's Tongue in Aspic
. It is one of the most experimental and vicious albums in the catalog of
King Crimson
.
Fripp
had started from scratch with
his new, third, line-up
. This time he had no horns, but instead a violinist, and to top it off a second drummer. If it sounds like recipe for disaster you are right, but Robert always knew how to make these chaotic line-ups work to their best ability. The album is a savage combination of heavy melodies and ethereal improvisations. It is a perfect example of a band doing the near opposite of what they had done before. This was even more apparent when performing live, as the only older song they would perform was the legendary
21st Century Schizoid Man
....ok they played
Cat Food
once too. Their drive to showcase themselves as a new and fresh entity free from the past was apparent. While this probably alienated and annoyed their old fan base I applaud them for going in such a bold direction
These are two of the harder albums to compare in this entire tournament, one with barely a rock song in it, aside from the misogynistic
Ladies Of The Road
and the other a collection of sounds akin to
throwing instruments down a flight of stair
s. Still there is something to be said about the radical and fresh approach
Robert
took to
Lark's Tongue
Even looking at
Pt I. of the self-titled track
we can hear how alive his new group was. It was ruthless, yet surprisingly composed as well. Even in the disjointed improvisations the band comes off with a fresh sound.
Islands
sounds tired, and almost bored with itself. I get the impression Fripp did not genuinely know what to do with this old sound he was still playing with, and had yet to figure out what his new sounds would be.
Unfortunately
Islands
was released in the context of
King Crimson
, a band that had already released three gigantic albums.
Islands
was a pretty large departure from the previous albums, but carries too many similarities to allow it to stand on its two feet properly. I adore the use of a small chamber orchestra and I actually think the more mellow approach was really clever considering how frantic the music before was. Yet, there is something missing from making it truly great. It feels like an idea not fully formulated, or understood. I get the sense that it was written under a great deal of stress which had a huge negative effect on the outcome.
Fripp
was wise to completely start from the ground level after this go around as it was apparent his desperate attempts to keep his sinking ship fully crewed was not going well in the slightest. With that sinking ship you get some pretty great songs such as the
self titled album closer
, a heart warming end to a stressful era of the band.
A Sailors Tale to
o, is no slouch, but seems to wallow in some odd middle ground of sound, never fully committing itself one way or the other. This is the general issue with
Islands
altogether.
Lark's Tongue In Aspic
does not have these issues. It is remarkably unique compared to what came before and even after. Even when comparing it to the other two albums from that line-up
Lark's
carries its own original assets. There were very few bands back then using a second drummer, and none of those were using someone so irrational as
Jamie Muir
. Muir, an essential asset to this album, spends barely half the time at his actual kit; instead he wanders around like an overstimulated child banging on everything he could get his hands on. It is that level of composed calamity that makes this album stand out among most of the court's catalog. The dual part
self titled tracks
are unparalleled to anything that had been released to that point. Many criticize
Bill Bruford
for leaving
Yes
at its highest point to join the volatile and implosive
King Crimson
. I can not disagree enough. Bill must of had a sixth sense to know this was the band that needed him and he needed this band. His chops were stretched to the absolute limit, but those limits presented some of the most dynamic rhythms the band had ever seen. This brilliance of all parties involved is exhibited in the more relaxed sections as well such as the much more stable
Exiles
and the wispy middle section of
Easy Money
. The range of dynamics is simply all over the place, but that range is done with laser precision.
Reading this you can easily tell where this going to end up, with a victory for
Lark's
. I want to say, however, that for as much flack as
Islands
gets, and for as much as I gave it here, it is a charming album. It is often cast aside by the majority of
Crimson
fans, and not rightfully so. I would concede that it would be in the bottom half of a best of list, but only because of the monstrous albums it has to go against.
Islands
is a well done effort to try and break out of a mold that was not working anymore. It is a relaxing Sunday morning listen with a cup of coffee and the paper as opposed to a mouth foaming piledriver you play at full volume while flying down the interstate. You can not fault a band for trying that.
Robert
would wisely avoid such an approach for a few years, but when he returned to the concept he would have made it his own. He no longer relied on a chamber orchestra to create an emotion he wanted to express, but instead only himself and some tape delay. We can almost argue that
Islands
was the inevitable inspiration for the future Frippertronics....maybe that is a stretch, but I want to try and give
Islands
some redemption as it fails to make it past the first round.
Winner: